·

Interior clearance / renovation
INTERIOR CLEARANCE / RENOVATION
Kingo performs interior clearance / renovation with respect for what needs to remain
Kingo's department for interior clearance specializes in performing interior clearance / renovation of buildings to be preserved.
You have a building that needs renovation, and the original purpose may no longer align with the plans and requirements for the building's future. Here, we handle both small and large tasks:
A smaller interior clearance task could involve removing individual floors and ceilings, and creating new openings.


A larger interior clearance / renovation could involve clearing the interiors of buildings, leaving only certain parts or the load-bearing structures intact.
Changes are part of everyday work, and clear communication ensures progress

Demolition work is characterized by the frequent occurrence of unforeseen conditions that require quick adjustments to avoid delays in subsequent activities. Through our daily briefings (Toolbox meetings), we have experience in swiftly modifying processes and approaches to effectively resolve unexpected obstacles and challenges.
The right equipment for each job

Kingo's department for interior clearance works with all types of demolition tasks, including cutting, breaking, and removing concrete structures, as well as creating openings and penetrations in them.
The department for interior clearance has its own cutting teams and uses the best demolition equipment to ensure tasks are carried out as efficiently as possible.
Therefore, there is no task involving the preservation of permanent building elements or structures that interior clearance cannot handle.
Renovation projects and interior demolition tasks often involve work with hazardous materials such as asbestos, lead, or PCBs.

Innovation drives progress
A significant part of demolition work involves devising solutions that fit the task at hand, often requiring creative thinking. After more than 65 years in the industry, we know that success comes from leveraging our experience and reimagining certain processes to align with the tasks we must accomplish.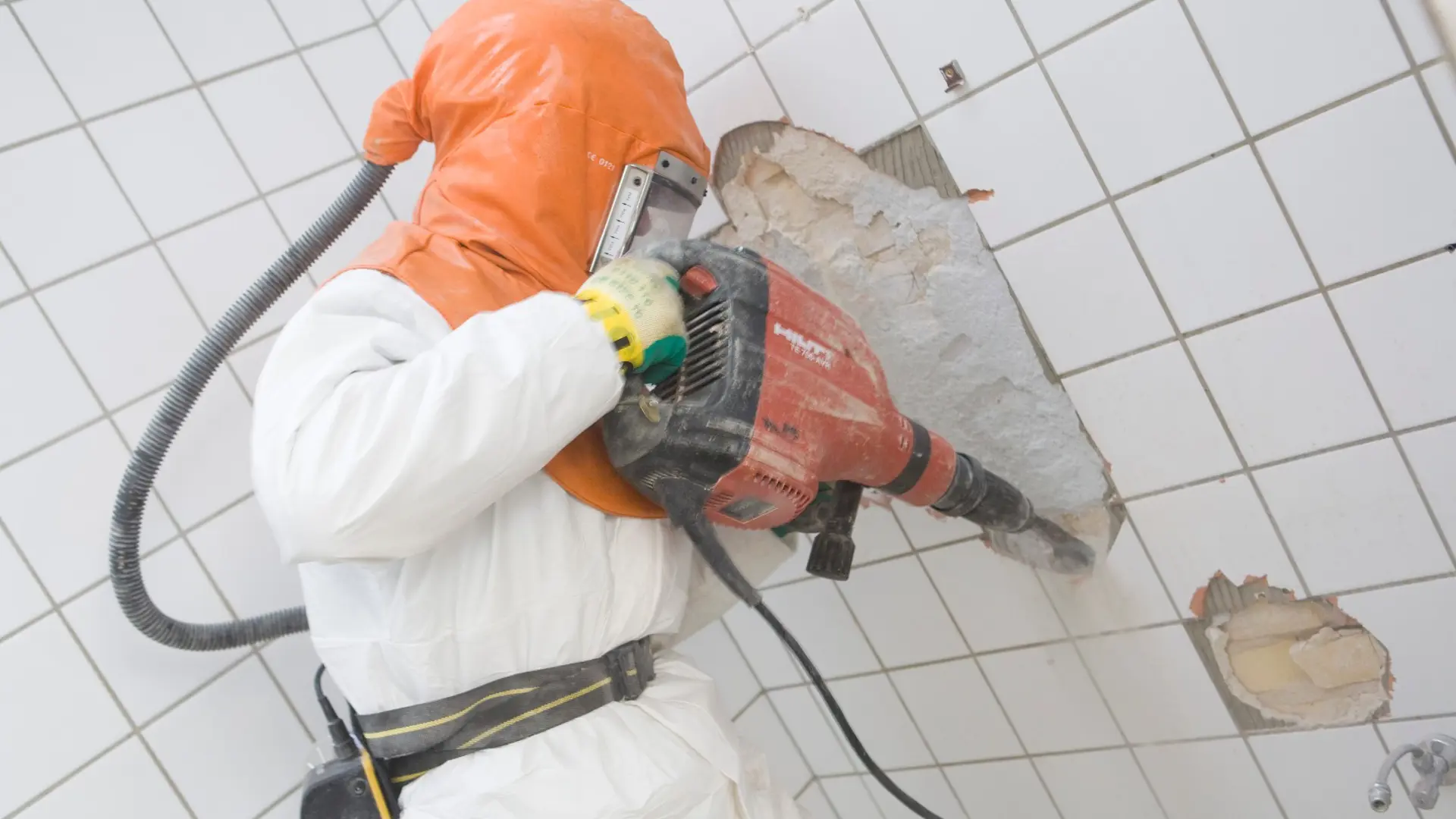 Environmental remediation in connection with interior clearance
Handling of hazardous substances is a significant part of our daily work, where we take responsibility for ourselves, other trades on the construction site, and the residents living around our work area.
There are many hazardous substances in Danish building materials, and with the right knowledge, we can handle these hazardous substances safely.
For handling hazardous substances, we use dedicated teams where all employees are thoroughly instructed. They have a full understanding of the health risks and methods to avoid exposure to substances like asbestos fibers, ensuring that asbestos fibers are not spread to the surroundings. The work is carried out in full compliance with the Green Asbestos Guide - published by the Demolition and Environmental Remediation section of DI Byggeri. A guide that we at Kingo have been actively updating since 2010.
Learn more about how we work with hazardous substances at Kingo here.
Maximum reuse is our goal – we call it circular demolition, and it's the approach to our demolition projects
Kingo's mission is to create space for a greener future, and in addition to our handling of hazardous substances, we can make a big difference for the climate by ensuring that materials from our projects contribute value to new construction projects.
We differentiate here between recycling and reuse
Recycling is integrated into all our processes, and we recycle up to 95% of all the materials we handle. This could involve, for example, crushing concrete to be used in new concrete, converting window glass into new glass wool insulation, or transforming wooden structures into wood chips for various applications.


Reuse, on the other hand, refers to using building materials or fixtures as they are in a new project. This means, for example, that bricks are reused when they appear as complete bricks or that wooden beams become supporting structures in new buildings.
Kingo Auctions and online sale of reused building materials and fixtures
For years, we have been working with Kingo Auctions, which often mark the beginning of a new project for us. Here, we move in ahead of our machinery and auction off anything valuable that can be safely dismantled and sent directly to others to create value.
We have gained valuable experience in holding Kingo Auctions and have a proven way to ensure maximum return with minimal impact on construction site schedules.
Read about Kingo Auctions here.
In addition to Kingo Auctions, we have www.kingounika.dk (in Danish), which sells valuable fixtures that couldn't be sold during the auction period. Additionally, it's the platform through which we also sell building materials.
We have large storage facilities to secure quality building materials in stock for specific customers or simply to reach a certain volume to make the fraction attractive for larger-scale construction.
Large-dimension construction timber is something we see a significant demand for, but we also identify reuse potentials in more complex products like storage halls.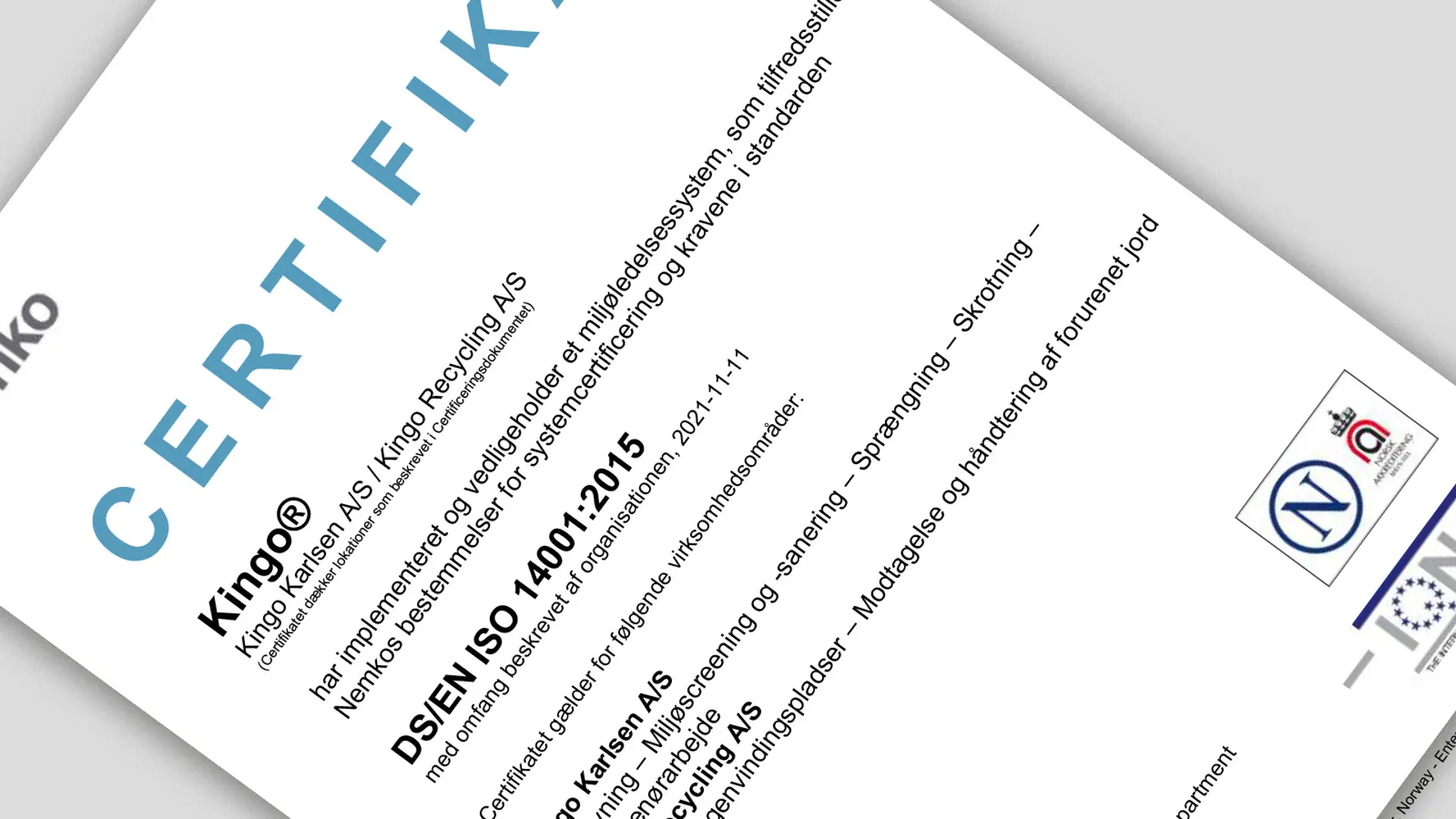 Certified management and controlled interior clearance
Kingo is certified in Quality (ISO 9001), Environment (ISO 14001), and Occupational Health and Safety Management (DS/ISO 45001). Additionally, we are subject to Danish control schemes (Demolition Industry Environmental Control Scheme and the scheme under the Danish Asbestos Association), which through independent inspections verify that our environmental remediations are carried out correctly.
With Kingo's certified management system, the Danish Building Agency (Bygningsstyrelsen) is ensured uniformity in execution through established procedures and registrations. Additionally, it ensures that all laws and regulations are adhered to at a minimum. The management system also guarantees that all deviations are recorded and processed with a focus on rectification and prevention.
Quality control and documentation in practice
To document the quality of our work, we use Inspectly, an online system where all project registrations are digitally collected using mobile phones or tablets and are continuously accessible throughout the entire project.
All processes are recorded with dates of completed work and corresponding relevant photos.
Kingo, in collaboration with the provider of Inspectly, has developed a special system setup for use in environmental remediation and demolition projects.
We extract data from Inspectly to generate reports that will be continuously available to the client. It's also possible to provide direct online access to Inspectly for the client, enabling them to monitor our quality work on the construction project.
We also use Inspectly to document our own safety rounds with checklists and photos of safety conditions. This information is valuable for regular safety meetings.
Ensuring full traceability of waste fractions
In Inspectly, we register the dismantled materials and waste with digital transport documents. Together with Exigo A/S, we have developed a digital waste registration system that combines data from Inspectly with digital weighing slips received from waste receivers. This ensures full traceability in waste streams. As a result, we can regularly extract quantities, allowing construction management to monitor compliance with regulatory requirements for waste management by the client.